Author's Note: As you may have already noticed, I've slowed down writing the Footfalls posts. Mainly because there are a couple of other projects taking priority at the moment. My second novel, Atmospheric Pressure, is very close to completion. The 4th story in the Kal series is also making a lot of headway. I will continue to write Footfalls, but I only have a limited amount of writing time. Until the books sales equal my paycheck, I'll have squeeze it in when I have some time. In meantime, please enjoy installment 7:
"Ghost? What do you mean ghosts?" Luther said. His voice tuned up a notch or two when he got nervous. The shrill squeak of the word ghost almost made Angela want to have a serious conversation with him about why he never seemed to get a girlfriend. Aside from crushes on lesbians, he really spent too much of his time whining about his situation rather than doing anything about it. He would write these annoying tweets like "so and so didn't even talk to me today, guess I'll be single forever."
Sometimes, she wanted to reach through the computer, slap him, and yell, "No wonder why you're single!" Other times, she wanted to friend dump him. However, no matter how annoying he could be, there would always be a glimmer of hope. He would come through when she needed him. He picked her up from a friend's house when she was too high to drive home and didn't feel safe about staying. He stuck up for her when someone would pick on her for her sexuality. Most people would just stay quiet when bigots expressed their opinion about her "life choices." Luther was never quiet. Despite the fact that everyday life seemed almost too much for Luther, he was there when she needed him. Right now she needed him. Hopefully, now wouldn't be the time Luther would break.
"The little girl. She saw us," Angela said. "But the father didn't. And the clothes. They are definitely not from our time period. Look at this basement. It looks new."
"So what are you saying? We time traveled?"
"It's something more than that. The father didn't even react to us."
"Maybe strange people in his basement is a regular occurrence."
"Would you just ignore the strangers talking to your little girl in your house?"
"Um… Ok. Right. So what do we do? Can't we just draw the witch marks again and go back."
"Not until we find my brother."
"But what if there is a time limit? What if it doesn't open?"
"Look, you can go back. I'm not stopping you, but my brother is back in this time, I just know it."
Angela explained to Luther everything she had learned from Mr. Harrison's photograph to her thoughts on the current situation. She drew the symbol on his sketch book, so he'd be able to draw it himself if he needed it. Afterwards, Luther decided to stay. Despite the fact that he could be annoying from time to time, he was always there when she needed him.
They decided to explore the rest of the house. If the only person in the house who could see them was the little girl, it would be pretty easy to have a look around. If Angela's brother really had tagged a wall in the future and ended up discovering a tunnel to the past then there should be a sign of him somewhere within the house. They would also have to ask the girl when she was away from the adults.
They made their way up the stairs and opened the door to the kitchen. Everything looked new despite the fact that the appliances were very old. The oven looked like it was a polished antique with ornate legs like it was a piece of furniture out of a movie set. The refrigerator was nothing more than an icebox. The place was clean and didn't have the musty smell that most old houses had.
They made their way into the dining room. The same table that seemed to stand as a monument to time looked completely new. The room was also bright and decorated. There were dishes on display in the built-ins. The girl and the dad were setting the table. The girl looked up at them when they came into the room. Angela smiled and put her finger over her lips. The girl nodded and continued to help her father.
A woman entered with a bag of groceries. She was wearing a turn of the century dress and bonnet. The shopping bag had a loaf of bread sticking out of the top. The scene looked exactly as one would expect from a historical drama. "I'm so sorry about the delay. You know how it can be in town. You get to talking and one thing leads to another…"
"It's ok. I decided to make supper this evening for all of us," the husband said with a cheery smile.
"It's definitely not your average turn of the century family," Luther whispered.
"Why are you whispering?" Angela said. "It's not as if they can hear us."
"She can!" Luther said.
"She's agreed not to talk with us until her parents aren't around. Nod if you understand me." Angela said, and the girl nodded her acknowledgement. "So why would you say they aren't average?"
"The dad is doing the cooking."
"Plenty of father's cook. Mine does for us every night."
"But this is the 1900s! Didn't women have to do whatever their husband wanted?"
"Quit being a misogynist."
"Misogynist! I'm not the misogynist. They are! They didn't even let women vote."
Angela rolled her eyes and said. "Come on, let's explore the rest of the house."
Angela and Luther went through the house. It was what one would expect from a turn of the century farm house. The furniture that would be antique by their standards looked new. The decorations were out of a different era. There was even an old time phonograph that gleamed like it was new.
Throughout the house, they found no evidence of her brother. There wasn't anything to suggest that travelers from her time period had ever been to the house. Once Angela was satisfied there were no rooms undiscovered or any clues missed, they turned their attention back to the family. The little girl had to know something. They decided to confront her after dinner.
They made their way back down the stairs and into the kitchen. The family had just finished eating when Angela and Luther stepped into the room. The woman began to pick up the plates. The husband stopped her and said in the same cheery tone. "No, I got it dear. You both relax. I'll fix up some dessert."
"I couldn't really," The woman protested.
"I insist. You'll love it. It's a French recipe." The husband said and scooped up the dirty dishes. The woman sat back down and the daughter eyed both Luther and Angela. Luther turned to follow the husband into the kitchen.
"Where are you going?" Angela said.
"I'm curious," Luther said. "I wonder if we can eat food from this time."
"We are trapped in the past and all you can think about is dessert?"
"We can't talk to her in front of her parents. Might as well make the most out of the time we are here. Besides, you never know when what we learn will come in handy."
"In case we need to eat our way out of a situation?"
"I mean the manipulation of objects. Even poltergeist stories have some sort of truth to them."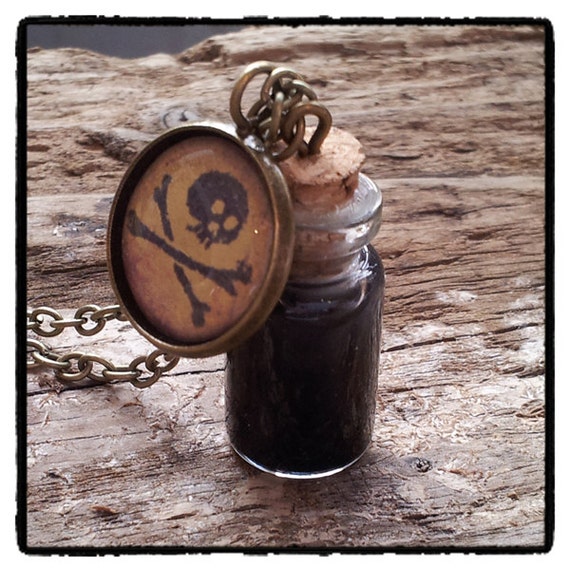 He did have a point. Angela followed Luther into the kitchen. The husband pulled out a bowl from the icebox that looked like chocolate pudding. He stirred the mixture and turned to look over his shoulder. Even though Angela knew he couldn't see her, it looked as if he was staring right at her. He pulled a vial from his coat pocket. The vial had a skull and crossbones on it. Once he was satisfied that no one was watching, he poured the vial into the pudding and stirred it some more. A wicked grin appeared on his face as he poured the mixture into three serving bowls.